There are no different rules for men vs. women when it comes to lifting weights. The only rules to follow are to learn proper form, lift heavy enough to force your muscle fibers to work, and practice split training, which means to avoid training the same body parts every day. Happy lifting, ladies.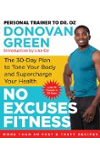 More About this Book
No Excuses Fitness: The 30-Day Plan to Tone Your Body and Supercharge Your Health
"Donovan Green proves that motivation and inspiration improves his clients' lives inside and outside of the gym. Donovan's own life story is the greatest example of how being motivated and driven makes what once seemed impossible a reality."--Joe Scarborough, NBC News Senior Political Analyst and host, Morning JoeDr. Oz's personal trainer, Donovan Green, delivers a 30-day fitness program focusing on exercise, diet, and attitude, forged from his experience training thousands of clients ranging from celebrities to regular folks.Between his positive, can-do spirit and practical, brass tacks strategies for getting in shape, it's no wonder that Donovan Green has reached 3.7 million daily viewers via his unique No Excuses platform on DrOz.com. With No Excuses Fitness, Green delivers a comprehensive month-long plan designed to help readers lose 10 pounds in 30 days. Filled with healthy recipes, workouts that can be done anywhere and with minimal equipment, and daily tips for staying focused (especially through plateaus), and featuring a foreword by Dr. Oz's wife Lisa, No Excuses Fitness will inspire and guide anyone interested in losing weight and gaining optimal health.
"For women, generally the key areas, even more so as we age, are glutes, hamstrings, abs and arms," says personal trainer and competitive figure athlete Kelly Decolati. Luck may be a lady, but to this elite trainer, iron's a sure thing. "Weight training is most beneficial to a woman trying to regain athleticism, plus the obvious boost to self-confidence."

To focus on those aforementioned key areas, the exercises Decolati has all her female clients perform, whether age 20 or 50, are squats, using a barbell, dumbbells, and/or a Smith machine. From there, clients perform walking lunges with weight.

"Lunges are simply the best," says Decolati.

Arms and shoulders also get high priority. She recommends using supersets, combinations of two exercises done back-to-back without rest. "The shoulder superset I love is front rope raises, followed up with side dumbbell raises. We then move into the mass builder, aka the burpee. My practice is to perform these with heavy -- 10- to 15-pound -- dumbbells. We close out with a decline abdominal combo, push-ups, and dips."

Decolati combines the above into a circuit. In other words, walking lunges (one lap down a hallway) followed by push-ups on a bench, then a set of dips on a bench.

"The concept is to keep moving by stimulating several different muscles and energy systems," says Decolati. "You keep it challenging and stimulating, and achieve results faster." Especially if you follow her advice by weight training at least twice weekly. "Optimally, three times," she advises.
Continue Learning about Fitness