As a mom, you don't have to close everything off and focus on just the exercise to get a fat-defying, energizing workout. Most moms can agree that exercise has to fit into your life and the business of your household. But of all the "secrets" we hear about when it comes to sculpting the body and maintaining fitness, we often don't think about the bonus of nurturing friendships at the same time. As women, we have an innate need to identify with other women, especially moms who share the same struggles of raising children. Workouts can be as much about the mental therapy of good conversation as it is about the body therapy of good exercise. It's as easy as that.

We're not saying that you have to exercise with friends every day, but the point is clear: it helps to view exercise as an opportunity to tune out your "real" world as an overscheduled mother and just be in the moment with your body. It's where you are allowed to finish a sentence. It's where you give yourself permission to have no interruptions and to focus on just yourself and perhaps another human being. Your body may be working hard, but your mind is relaxed. You don't feel exasperated. There's nothing more energy-building than that. Far too often we see women treat exercise as yet another chore, another To Do. It's boring. It's hard. It's exhausting. It's not fun, but it doesn't have to be that way. Far from it!

The message here isn't so much about any activity that gets you moving and your heart beating is enough to do the job. But it's how a mother should go about her activity that makes a difference. With the goal of losing herself among thoughts, friends, and a body in sweaty motion, she gets results that go farther than a nice pair of legs, or set of abs, or whatever. And that's probably the ultimate key to success in staying active and fit. Without that component you won't be motivated to do anything.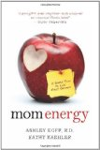 More About this Book
Mom Energy: A Simple Plan to Live Fully Charged
       From celebrated dietitian Ashley Koff and fitness trainer to the stars Kathy Kaehler comes Mom Energy, an exciting new way for moms to tap into their own natural and renewable sources of...
The best time to exercise for busy moms is specific to your own schedule. Some people exercise in the morning so they can get it out of the way immediately. Early morning exercisers do not have to worry about unexpected schedule changes. Evening exercises may feel more energized and use their workout as a form of stress reduction after a long day. Pick a time that is most conducive to your schedule.
In addition, enjoyment is often an overlooked component of an exercise program. Choose a fitness activity that fits with your personality and interests. This means that the exercise program and its activities must coincide with your personality, likes, and dislikes. You're much more apt to continue with a program that is fun and challenging. Exercise does not have to be boring and painful. Moreover, exercise can come in many forms such as dancing, hiking, cycling, sports, and swimming. Exercise does not have to be performed in a gym tied to a treadmill. Be creative and ask loved ones to participate with you.
Continue Learning about Fitness