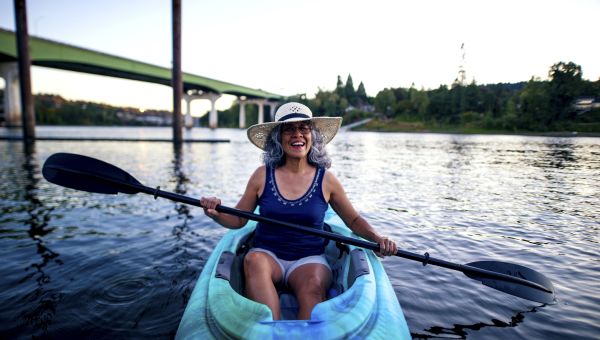 You'll end your love affair with your couch in no time if you observe this one rule when you plan physical activities: be choosy.
Sounds simple, but the impact that choice has on the way you feel about exercise is anything but. In one study, exercisers were far more likely to report feeling good—both physically and psychologically—when they chose a preferred activity.
More movement motivators
When you're enjoying yourself, you get totally distracted from the fact that you are even exerting yourself and doing work. Fatigue is less prevalent, and you may even exercise longer. So choose something that trips your happy trigger and you'll be looking forward to exercise instead of dreading it. Better yet, do your chosen activity to music. Here's how music can help you work out longer without extra effort.
How do I love thee, walk?
If you haven't found an activity you dig, don't give up. Be brave in your search. Consider outside-the-box activities, like roller skating, salsa dancing, body surfing, jumping rope or water skiing—to name a few. Or maybe all you need to do is make that daily walk you take a little more interesting.
Visit the Walking Center for cool tips, tools, and gear that will provide everything you need to become a lifelong walker.
Medically reviewed in November 2019.