You should encourage your child to exercise because it is important for children to exercise and stay active in order for them to maintain a healthy weight. Childhood obesity is becoming more and more of a concern. Children who are not at a healthy weight, defined as a body mass index, or BMI, of under the 85th percentile for age, are at increased risk for health complications as an adult. Some of the health complications associated with obesity include diabetes, high blood pressure, high cholesterol and heart disease.
It's never too early to put your child on the road to an active lifestyle. Many youngsters spend too much time confined to strollers, swings, baby seats, and playpens. This is usually because we want to keep our children safe while we get things done. Instead of "containerizing" our babies, however, we should learn to let them out -- in a safe environment, of course -- to move.

Now, I'm not suggesting a full-fledged aerobic workout for babies. I'm talking about fun activities that make being physical a normal part of everyday life in the hope that children will not grow up to be among the 60% of us who are overweight couch potatoes.

Parents usually assume that skills such as rolling over, sitting up, and walking will just come naturally as babies grow. According to pediatric specialists, however, babies need the right environment to connect the brain to the muscles that perform these activities. For example, an infant who spends a large part of the day in a bouncy seat may like watching the suspended toys, but he or she will probably roll over or sit up later than babies who spend more time stretching out on a blanket.

Though it may seem to you that your young children move around a lot, they aren't always getting all the physical activity they need. TV and video games keep large numbers of preschoolers sedentary for longer than parents may realize. And for older children there are far too few playgrounds where parents can feel secure about allowing their children to play unsupervised.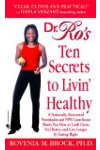 More About this Book
Dr. Ro's Ten Secrets to Livin' Healthy
In this one-of-a-kind book, Dr. Rovenia M. Brock—known as Dr. Ro™ to fans of Black Entertainment Television's Heart & Soul—reveals practical, satisfying ways for African American women to eat...
Continue Learning about Fitness For Children