Young kids are exercising as soon as they are born, they just do not know it. By crying, they exercise their lungs. Taking their bottle is exercise. They are simply doing the exercises of daily life. Lifting their heads and tummy time are some of the first exercises babies do to strengthen their core muscles. Just watch toddlers as they play, they do a lot of exercise! If adults just copied the movements of an average toddler for an hour daily (not at naptime), we would be in great shape.
Do not worry if you child is not doing push-ups, sit-ups or doing the elliptical. As long as your child is active and breathing harder from play for an hour daily, they are exercising. As for organized sports, they can usually start when they can follow directions well which is around the late pre-k to kindergarten years.
Children can begin exercising at any age. Even infant's need some form of exercise to obtain proper bone, joint and muscle function. Tummy time is one such example of early exercise. Tummy time is designed for babies to increase necessary arm, back, and neck strength. This type of exercise can begin as early as 2 weeks of age. Tummy time is essential for muscle development for young children. Children have different physiologic response to exercise compared to adults. The type and intensity of exercise must be adjusted to accommodate for the child's physiological constraints.
Starting your children with healty habits early can make a difference in their health as they reach adulthood. Even as early as 5 or 6, kids can begin light exercise. Watch my video to learn more.
It is a great idea to start exercise for your child early. Babies and toddlers can begin with gentle exercises such as swimming and walking. Make sure the exercises are appropriate for your child's age. Kid's who become active at a young age tend to stay active later in life and have a lower risk of becoming obese or developing heart disease.
Children should be physically active at all ages! It is important to start setting aside time to for children to be active at a young age. Habits such as eating healthy and being active should become part of young child's daily routine.
It is recommended that toddlers receive at least 1.5 hours of physical activity daily. 30 minutes of this time should be structured such as guided play and the rest of the play time should be unstructured free play. Pre-school children should receive one hour of structured physical activity and one hour to several hours of unstructured physical activity. School aged children need at least 1 hour of physical activity every day. Even infants should be encouraged to be active. Infants play should be focused on motor skill development.
Continue Learning about Fitness For Children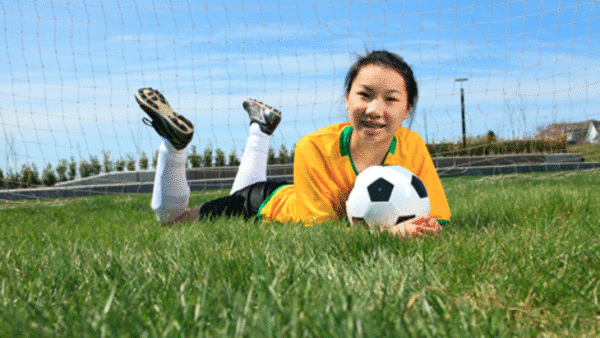 With childhood obesity rates at an all time high, fitness for children is extremely important. There are many ways to make fitness fun for children – walking, dancing or just throwing the ball around outside. And any time that the ...
whole family is included is an extra bonus.
More