According to findings presented at the American Psychological Association's 120th Annual Convention, cardiorespiratory fitness was a significant factor found to have a positive influence on both boys' and girls' reading and math test scores.

Researchers gathered data from 1,211 students at five middle schools in Texas. Statistically, 54% of the students were female, and of those, 58.6% were white. Among the male students, 57% were white, 24.2 % were Mexican-American. Unlike prior studies which have shown a link between being physically fit and improved academic performance, this new study also looked at self esteem outcomes and social support, and it also took into consideration the socio-economic status of the students.

The study results noted that having social support was related to better reading outcomes among boys. An interesting finding among the girls was that having a larger body mass index correlated to better reading scores (maybe these girls shun sports because they are heavier and consequently spend more time reading). For both boys and girls, a better cardiorespiratory fitness was associated with better math scores.

The takeaway message is that encouraging fitness and maintaining physical education and after-school sports programs would all seem to support better academic outcomes for girls and boys.
Exercise has several benefits for children. According to the U.S. Centers for Disease Control and Prevention (CDC), approximately 17% of children are obese, three times as many as 30 years ago. Three recent studies highlight the importance of exercise for kids and teens.
Even small amounts of exercise boost self-esteem in teens. Just minutes of stationary cycling improved an array of psychological effects for obese teens in a study from the Journal of Pediatric Psychology. Markers of self-esteem, scholastic abilities, body image and social competence all improved for the overweight adolescents.
Aerobic exercise cuts diabetes risk in children. Only 20 minutes a day help improve insulin resistance and reduce the risk of type 2 diabetes, according to a study in the Journal of the American Medical Association.
Vigorous exercise boosts kids' overall health. Adolescents, some obese, did more than seven minutes of intense exercise daily and improved waist size, blood pressure, body mass and other health measures. The kids averaged 12 years of age. This study appeared in Archives of Pediatrics & Adolescent Medicine.
The takeaway: The lead researcher in one study stressed that parents should "throw away the scale" when helping their children, overweight or not, improve themselves physically and mentally. The key is to get them moving.
Kids who exercise have fewer behavioral problems, form stronger friendships and social bonds, grow stronger bodies, improve balance, flexibility, and coordination, have a better self-image, and develop stronger bones. That means stronger, happier, more well-adjusted kids.
Participating in activity programs and team sports also encourages self-discipline, sportsmanship, leadership, and socialization. All skills that will serve your child well in his academic, professional, and personal life. In addition, staying fit helps children feel good about themselves and builds self-confidence, which will help them avoid risky behaviors such as drug and alcohol use later on.
From Good Kids, Bad Habits: The RealAge Guide to Raising Healthy Children by Jennifer Trachtenberg.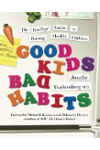 Exercise provides many benefits for children. By keeping active, they reduce the risk of overweight and obesity – which today, are plaguing them in epidemic proportions. It also helps them hone their motor skills as they are developing into adolescents and young adults. Having better body awareness also helps prevent injuries. Further, exercise has been shown to improve cognitive function, and improve motor skill development. Children who are active do better on standardized tests and have better grades.

Continue Learning about Fitness For Children