To find an activity your child enjoys, the best thing to do is experiment a little. Expose her to many options and ask her which she enjoys most. Also encourage her to try things she hasn't tried before. There may be an activity she likes and has never tried before.

If kids tell me that team sports like baseball, basketball, and soccer aren't really up their alley, I suggest that they try more individual activities like dance classes, martial arts, horseback riding, or yoga. The main point I try to get across to my patients is that pretty much any activity that gets them up and moving will do the trick. But they have to like it enough to do it on most days.
I explain how finding activities they enjoy and will continue to do regularly will help keep them looking and feeling good for years to come. They'll cope better with any stresses at school or at home, they'll worry less and laugh more, and their bodies will work better thanks to stronger muscles, bones, and joints. To get parents on board, I remind them that staying fit helps children feel good about themselves and build self-confidence, which will help them avoid risky behavior such as drug and alcohol use later on.
From Good Kids, Bad Habits: The RealAge Guide to Raising Healthy Children by Jennifer Trachtenberg.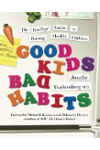 Continue Learning about Fitness For Children