Make it fun and encourage play with friends. Exercise is any activity that stresses the musculoskeletal system or the cardiorespiratory system. Make exercise a game that your kids will enjoy. Ride bicycles, play catch, or tag. You can also, take your kid swimming as this is an excellent form of exercise. Getting your kid to play fun games with friends outdoors will bring about the benefits of exercise.
Chat with your child about the various possibilities. She may already have expressed interest in an activity and is waiting for you to make it happen. Your community may offer excellent classes in dance, swimming, martial arts, skating, tennis, or horseback riding. Once a choice is made, consider the time commitment and cost involved before jumping in with both feet.
Don't force a child to continue an activity she doesn't enjoy, especially once she's given it a chance. Try to gauge her level of commitment early on. Find out if it's possible for her to take one or two trial classes first. That way, if it turns out that the activity isn't her cup of tea, you can look at another option. Ask your child if any of her friends might want to join the class or activity at the same time? That might make it more fun for her and will encourage commitment -- and you can share carpooling with her friend's parents.
From Good Kids, Bad Habits: The RealAge Guide to Raising Healthy Children by Jennifer Trachtenberg.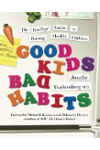 Continue Learning about Fitness For Children