Prenatal care consists of three interrelated elements: regular visits with your midwife or doctor, the care you give yourself, and the care you receive from friends, family, or other support people.
A woman with a normally progressing pregnancy and no complications usually visits her health care provider every four to six weeks during weeks 4 to 28, every two to three weeks from weeks 28 to 36, and every one to two weeks in the last month before her due date. The style of care you receive and the quality of your interactions can affect not only your physical experience of birth but your emotional experience.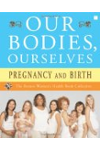 More About this Book
Our Bodies, Ourselves: Pregnancy and Birth
ALL THE INFORMATION YOU NEED TO MAKE WISE DECISIONS ABOUT YOUR PREGNANCY AND THE BIRTH OF YOUR CHILD -- FROM THE EDITORS OF THE CLASSIC "BIBLE OF WOMEN'S HEALTH" Pregnancy and birth are as ordinary...
Continue Learning about First Prenatal Check-Up