When you hear test results, you may feel exhausted, relieved, exhilarated, despairing, joyful, or terrified, depending on the results and your hopes and expectations. If a screening test suggests an increased chance of a condition being present, you can decide whether you want follow-up testing or not.
If you find out through diagnostic testing that your baby has a disability, deciding whether or not to terminate your pregnancy can be very difficult. Some women and families may believe that it is wrong to end a pregnancy, regardless of the potential problems a child may bring. Other women and families believe that the decision depends on the particular condition involved and the family's circumstances. If you believe the decision depends on your situation, you will need to consider whether you think you and your child will have a life that you will both enjoy, despite the obstacles and limitations that a disability can impose. If you have enough time, energy, support, and possibly money in your own life to give your child what she or he will need, and you expect to have many of the same joys and rewards you would have received in raising any other child, you may be comfortable continuing your pregnancy.
If your test results show that the baby has impairment, no one should pressure you into having an abortion, just as no one should pressure you to have an abortion for any other reason. But if your test results tell you something you think will be too difficult for you and your child, you don't have to continue the pregnancy, even if other people think you should.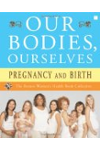 More About this Book
Our Bodies, Ourselves: Pregnancy and Birth
ALL THE INFORMATION YOU NEED TO MAKE WISE DECISIONS ABOUT YOUR PREGNANCY AND THE BIRTH OF YOUR CHILD -- FROM THE EDITORS OF THE CLASSIC "BIBLE OF WOMEN'S HEALTH" Pregnancy and birth are as ordinary...
Continue Learning about First Prenatal Check-Up