Proper functioning of the heart and lungs is basic to life. Monitoring responsiveness, which includes determining whether the person is breathing and their heart is pumping, takes priority over other illnesses and injuries. Because, let's face it, if you're not breathing and your heart isn't beating, stabilizing a fractured bone isn't going to make much difference.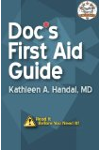 More About this Book
Doc's First Aid Guide: Read It Before You Need It
In a medical emergency, time is of the essence. "Doc's First Aid Guide" is an illustrated, first-aid pocket handbook designed to be used as a quick reference and includes the latest CPR guidelines....
Continue Learning about First Aid Techniques