A trained lay rescuer, that's someone who has taken a cardiopulmonary resuscitation (CPR) class, should provide, at a minimum, chest compressions. Rescue breaths can be added at a ratio of 30 compressions to 2 breaths. So if you find someone who is unresponsive, start right in with chest compressions and provide rescue breaths as you've been trained.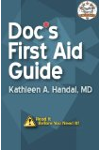 More About this Book
Doc's First Aid Guide: Read It Before You Need It
In a medical emergency, time is of the essence. "Doc's First Aid Guide" is an illustrated, first-aid pocket handbook designed to be used as a quick reference and includes the latest CPR guidelines....
Continue Learning about First Aid Techniques