You should do the following before providing first aid:
Check to make sure the scene is safe before you approach.
Introduce yourself and ask for permission to help.
Determine what the problem is and what type of help is needed.
Call emergency medical services (EMS) if someone is seriously ill, injured or you are unsure of what to do.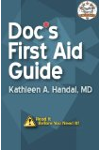 More About this Book
Doc's First Aid Guide: Read It Before You Need It
In a medical emergency, time is of the essence. "Doc's First Aid Guide" is an illustrated, first-aid pocket handbook designed to be used as a quick reference and includes the latest CPR guidelines....
Continue Learning about First Aid Techniques