Learn how to recognize the signs of cardiac arrest, when to start chest compressions and why you need to call 9-1-1 immediately. Watch this video with Debbie Licht, RN from Los Robles Hospital & Medical Center.
If a person is unresponsive and not breathing you need to start cardio pulmonary resuscitation (CPR) right away. Gasping is not breathing! By unresponsive I mean appears lifeless, doesn't move or respond when shoulder is tapped. Yell for someone to call Emergency Medical Services (EMS) and get an an automated external defibrillator (AED). An AED applied fast may restart the heart. Don't worry, AEDs are user friendly.

Understand that when a victim's heart has stopped pumping blood (cardiac arrest), permanent brain damage can begin in four to six minutes, so you must act fast.

Cardiac arrest can strike at any age and may be caused by many conditions, including heart attack, suffocation, allergic reaction, drowning, choking, or electric shock.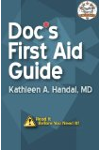 More About this Book
Doc's First Aid Guide: Read It Before You Need It
In a medical emergency, time is of the essence. "Doc's First Aid Guide" is an illustrated, first-aid pocket handbook designed to be used as a quick reference and includes the latest CPR guidelines....
Continue Learning about First Aid Techniques