Hopefully you have taken a first aid course. Remember, Do No Further Harm - if you are unsure or your intervention causes pain at any time, stop!
Check to make sure the scene is safe before you approach. Introduce yourself and ask for permission to help. A conscious victim can especially if you ask-will tell you their medical needs, problems and usually knows what will help.
Determine what the problem is and what type of help is needed. Call EMS if someone is seriously ill, injured or you are unsure of what to do.
Attention to their ability to breath normally is important, all other first aid management comes second. You may have to help them get their inhaler or sit them up to breath better- do this before immobilizing their possible broken ankle or getting ice on a bruise. Next priority is bleeding-are they? Bleeding needs to be stopped to maintain blood pressure and life! Take a First Aid course and learn proper techniques to do this and more.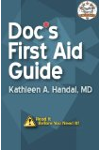 More About this Book
Doc's First Aid Guide: Read It Before You Need It
In a medical emergency, time is of the essence. "Doc's First Aid Guide" is an illustrated, first-aid pocket handbook designed to be used as a quick reference and includes the latest CPR guidelines....
Continue Learning about First Aid Techniques