The steps a rescuer takes during the first few minutes of a medical emergency are critical - they can mean the difference between temporary or permanent disability or between life and death. That's why first-aid knowledge and training are so important. They prepare you to intervene calmly and effectively in a medical emergency. Everyone has a chance to be a life saver.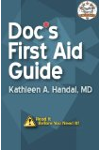 More About this Book
Doc's First Aid Guide: Read It Before You Need It
In a medical emergency, time is of the essence. "Doc's First Aid Guide" is an illustrated, first-aid pocket handbook designed to be used as a quick reference and includes the latest CPR guidelines....
Continue Learning about First Aid, Safety & Preparedness