Positioning a victim after an accident should only be done to avoid danger or to provide care.

Only change position if victim is:
In immediate danger in current location
Breathing and unresponsive
Vomiting or has debris in mouth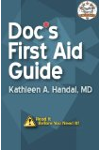 More About this Book
Doc's First Aid Guide: Read It Before You Need It
In a medical emergency, time is of the essence. "Doc's First Aid Guide" is an illustrated, first-aid pocket handbook designed to be used as a quick reference and includes the latest CPR guidelines....
Continue Learning about First Aid, Safety & Preparedness