If your child is unresponsive, ensure that the area around your child is safe and call 911. If you have been trained in cardiopulmonary resuscitation (CPR), check for a pulse, and if you do not feel a pulse, start CPR.
If your child is unresponsive, call 911 and do the "ABC" check: A) Check the Airway to make sure it's not blocked. B) Check for Breathing -- sounds of inhaled or exhaled air. C) Check for Circulation -- your child's pulse. If you need to start Cardiopulmonary Resuscitation (CPR) or do the Heimlich maneuver, the dispatcher can walk you through the steps while the paramedics are en route. Better yet, be prepared by taking a CPR class or take a refresher course.

From The Smart Parent's Guide: Getting Your Kids Through Checkups, Illnesses, and Accidents by Jennifer Trachtenberg.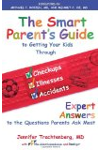 Continue Learning about First Aid, Safety & Preparedness