The following are first aid treatment guidelines for poisoning:
Protect yourself from exposure to the poison while administering first aid.
For poison in the eye treat accordingly.
For poison on the skin take off any clothing that the poison touched and rinse the skin with running water for at least 20 minutes and continue until any irritation subsides.
For inhaled poison, move the victim to fresh air right away. Monitor for breathing problems.
Call Poison Help Center for specific instructions. They will want to know: Type of poison. How it happened. Age of victim. Estimated amount and time occurred. Victim's condition.
Follow Poison Help Center's instructions!
Do not rely solely on a container's label for first aid information.
Do not force vomiting or give fluids to victim unless told to by a physician or the Poison Help Center. Be sure the victim is totally conscious beforehand.
Do not assume everyone wants to get well. Don't leave a victim alone if attempted suicide is suspected.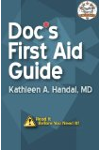 More About this Book
Doc's First Aid Guide: Read It Before You Need It
In a medical emergency, time is of the essence. "Doc's First Aid Guide" is an illustrated, first-aid pocket handbook designed to be used as a quick reference and includes the latest CPR guidelines....
Continue Learning about First Aid, Safety & Preparedness