First aid treatment for sprains and strains consists of the RICE treatment:
Resting the limb
Applying Ice for 10 minutes at a time up to four times a day
Compression with an elastic bandage
Elevating or raising the affected body part
The following is the first aid treatment for sprains and strains:
Seek medical help if unable to bear own weight or if you suspect fracture.
If necessary, control bleeding by applying continuous firm pressure above the injured site. Cover with sterile dressing.
Stabilize the injured area in position found. Splint if necessary
Apply the RICE guidelines: Rest, Ice, Compress, and Elevate. Ice is a cold pack (mixture ice/water) through a barrier directly to area for up to 20 minutes or until uncomfortable. Reusable gel packs do not cool as well.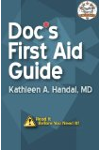 More About this Book
Doc's First Aid Guide: Read It Before You Need It
In a medical emergency, time is of the essence. "Doc's First Aid Guide" is an illustrated, first-aid pocket handbook designed to be used as a quick reference and includes the latest CPR guidelines....
Continue Learning about First Aid, Safety & Preparedness