The following are first aid treatment guidelines for a ruptured eardrum:
If you suspect head trauma as the cause, get medical help.
Cover outside ear with loose, dry sterile dressing.
Have the victim lie on side with affected ear facing down if there's no sign of head or neck injury.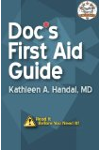 More About this Book
Doc's First Aid Guide: Read It Before You Need It
In a medical emergency, time is of the essence. "Doc's First Aid Guide" is an illustrated, first-aid pocket handbook designed to be used as a quick reference and includes the latest CPR guidelines....
Continue Learning about First Aid, Safety & Preparedness