The following are the first aid treatment guidelines for mouth and dental injuries.
If the victim has difficulty speaking or breathing:
Place victim in a position of comfort
If victim is bleeding from the mouth and no loose or missing teeth are visible:
Put gloves on and apply pressure to visible bleeding area with gauze or clean cloth. Apply cold pack (mixture ice/water) to swelling.
If bleeding is deep in the mouth, place victim in recovery position to prevent victim from choking on blood.
Get medical help if bleeding can't be stopped or victim has trouble breathing.
Monitor and treat for shock if present.
If tooth is loose:
Have victim gently bite down on sterile gauze to keep tooth in place
If a tooth is knocked out: Handle the tooth by the crown.
If tooth goes in easily, gently insert into socket.
If unable to return to mouth, rinse tooth in water and place in milk.
Take victim and tooth to dentist as quickly as possible.
Clean any bleeding wounds with tap water.
Stop bleeding from gum by applying pressure with a piece of cotton or gauze for at least five minutes, use increased pressure if needed.
In all cases:
Do not force the jaw open or closed.
Do not pull a tooth that is partially out.
Do not handle the part of the tooth that was in the gum.
Do not use force to reinsert tooth.
Do not try to stop bleeding if you can't see the source.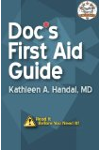 More About this Book
Doc's First Aid Guide: Read It Before You Need It
In a medical emergency, time is of the essence. "Doc's First Aid Guide" is an illustrated, first-aid pocket handbook designed to be used as a quick reference and includes the latest CPR guidelines....
Continue Learning about First Aid, Safety & Preparedness