The following are first aid treatment guidelines for head injury:
If necessary to turn victim, turn as unit. Use two rescuers and the log-roll technique (stabilize the head and neck while you instruct your helper to roll the victim's body as a single unit onto his/her back.)
If absolutely necessary to move victim, use clothes-drag technique (lay victim on back and drag by his/her clothing, keeping the body aligned.)
Immobilize neck and head, if spine or neck injury is suspected.
Monitor for responsiveness and breathing.
Control bleeding, if present.
Watch for signs of serious head trauma such as increasing sleepiness, projectile vomiting, seizures, and loss of body function.
Keep victim calm and still until help arrives.
Do not move a victim's head if a spinal injury is suspected.
Do not give anything by mouth.
Do not try to keep victim awake.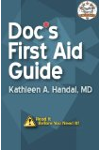 More About this Book
Doc's First Aid Guide: Read It Before You Need It
In a medical emergency, time is of the essence. "Doc's First Aid Guide" is an illustrated, first-aid pocket handbook designed to be used as a quick reference and includes the latest CPR guidelines....
Continue Learning about First Aid, Safety & Preparedness