The following are first aid treatment guidelines for genital injuries:
Call for medical help, if unable to control bleeding or victim is unable to move.
Find position of comfort.
If pale and bleeding, place victim in shock position until help arrives.
Apply cold pack (mixture ice/water) to area if there is swelling and bleeding has stopped.
Do not force victim into uncomfortable position.
Do not give anything by mouth in case surgery is needed.
Do not try to remove any stuck objects.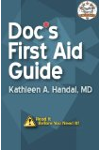 More About this Book
Doc's First Aid Guide: Read It Before You Need It
In a medical emergency, time is of the essence. "Doc's First Aid Guide" is an illustrated, first-aid pocket handbook designed to be used as a quick reference and includes the latest CPR guidelines....
Continue Learning about First Aid, Safety & Preparedness