The following is the first aid treatment for closed fractures:
Call for medical help if the bone is abnormally bent.
Stabilize the injured area in position found. Splint if necessary.
Apply cold pack (mixture ice/water) through a barrier directly to area for up to 20 minutes at a time or until uncomfortable.
Elevate the injured area if it can be immobilized and does not cause more pain.
Get medical attention.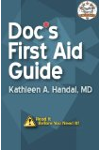 More About this Book
Doc's First Aid Guide: Read It Before You Need It
In a medical emergency, time is of the essence. "Doc's First Aid Guide" is an illustrated, first-aid pocket handbook designed to be used as a quick reference and includes the latest CPR guidelines....
Continue Learning about First Aid, Safety & Preparedness