Treatment for outer ear injuries is primarily covering the ear up and holding it in place. In this video, I will describe how to provide aid for this type of injury.
The following are first aid treatment guidelines for outer ear injuries:
If you suspect head trauma, call for medical help.
If bleeding, apply direct pressure.
If a portion has been amputated, treat accordingly.
Apply cool compress to decrease swelling.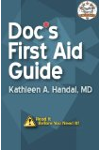 More About this Book
Doc's First Aid Guide: Read It Before You Need It
In a medical emergency, time is of the essence. "Doc's First Aid Guide" is an illustrated, first-aid pocket handbook designed to be used as a quick reference and includes the latest CPR guidelines....
Continue Learning about First Aid, Safety & Preparedness