The following are the first aid treatment guidelines for superifical burns:
If possible, hold the burned area under cold (not ice cold) running water. Continue until pain subsides.
Leave uncovered. Protect from sun, dirt and friction.
Re-examine in 24 hours and look for signs of partial thickenss burn.
Medical attention may be required, depending on location.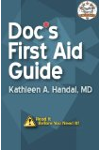 More About this Book
Doc's First Aid Guide: Read It Before You Need It
In a medical emergency, time is of the essence. "Doc's First Aid Guide" is an illustrated, first-aid pocket handbook designed to be used as a quick reference and includes the latest CPR guidelines....
A first degree burn affects the outer layer of the skin. These types of mild burns normally cause pain, swelling, and redness. If there is no break in the skin, run cool water over the affected area for about 5 minutes then cover the burn with a sterile bandage. If there is moderate to severe pain and swelling take an over-the-counter Ibuprofen and Tylenol to help with the symptoms. It is important to make sure the proper dosage is being taken according to the age of the affected person. Remember, this is for first degree burns only. The treatment for more severe burns will be different.
Continue Learning about First Aid, Safety & Preparedness