The following are the first aid treatment guidelines for electrical burns and shocks:
Call emergency medical services (EMS), the building's maintenance department or the utility company if a high-voltage wire is involved. Never attempt to remove it yourself.
Make sure bystanders are aware of the existing danger.
Cut the power at the source, if possible. At home the switch is usually near the fuse box.
If you can't turn off power at the source (and it's not a high-voltage utility wire in contact with the victim), stand on a dry surface and disconnect victim from source of shock, using a long, non-conductive object, such as a fiberglass pole, broom, or rope.
After source of shock has been removed, check the victim's responsiveness and breathing. Electricity can stop the heart! Perform cardiopulmonary resuscitation (CPR) if needed
Monitor and treat for shock if present.
Lightning can cause severe burns, fractures even spinal injury, so treat for these injuries.
If wounds are evident, cover wounds with dry sterile dressing.
Do not touch a victim of electric shock who is still in contact with the source of power, or touch the wire itself - even an insulated part of the wire.
Do not touch the victim until all wires are clear. A live, arcing wire may move, hitting you or someone else.
Do not try to remove a high-voltage wire from the vicinity of the victim under any circumstances.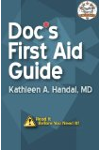 More About this Book
Doc's First Aid Guide: Read It Before You Need It
In a medical emergency, time is of the essence. "Doc's First Aid Guide" is an illustrated, first-aid pocket handbook designed to be used as a quick reference and includes the latest CPR guidelines....
Continue Learning about First Aid, Safety & Preparedness