Nursemaid's elbow is a dislocation of the bone called the radius in the elbow. This usually occurs in young children and can occur by the child trying to move in the opposite direction of the mother when the mother is holding the child's hand. It can also be when swinging a child by the arms or any other activity the child does like swinging from the monkey bars. The child experiences pain and may cry and guard using their arm. Sometimes the bone slips back in place spontaneously and if not a health care provider can maneuver the bone back in place. Nursemaid elbow may happen again in the child and often the healthcare provider will teach the mother or father how to treat it on their own.
The most common orthopedic injury in kids under two is called nursemaid's elbow, in which the elbow gets tugged out of its socket by a caregiver holding a child's hand and yanking the elbow. ("Hurry across the street, dear.") This injury is not a fracture, but it sure can mimic one in the way that the child holds her arm -- as if it's in a sling -- and won't use it.

You can treat nursemaid's elbow yourself by holding her elbow in one hand and then rotating the arm in the proper direction. If you're not comfortable in the role of amateur orthopedist, take her to the doctor for a three-minute visit: one minute for telling what happened, one minute or less to pop the elbow back in, and another minute to get a sticker for being so brave!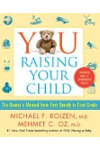 Continue Learning about First Aid, Safety & Preparedness