Your first aid kit should contain a variety of supplies due to the many different needs it might have to fill. Basics include bandages of different types and sizes - plastic, fabric, waterproof, and gauze, for example. Tape, scissors, tweezers, and needles are useful, as are cold packs, antibiotic ointments, and soap. You should have basic medications, including pain relievers, antihistamines, hydrocortisones, and stomach medication. You should also always have at least two pairs of disposable gloves in order to protect yourself and the person you are administering help to. A small first aid booklet that details what to do in various emergencies is also helpful.
A first aid kit containing the following items:
4"x 4" gauze pads
8"x 10" gauze pads
One package of 2" gauze roll bandages
A box of assorted adhesive bandages
Tylenol for pain relief
Benadryl or other antihistamine for allergic reactions
Adhesive tape
Latex gloves
Sealed moistened towelettes
Antibiotic ointment
Disposable instant ice bags
Scissors
Tweezers
Thermometer in case
Activated charcoal (for poisoning: call Poison Control Center first before using)
At least one blanket
Plastic bag
Directions for emergency assistance
Additional supplies to keep on hand:
Clean water. You'll need to keep a 3-day supply, which is one-gallon per person per day.
A 3-day supply of non-perishable food, such as canned meats, canned fruits and vegetables, energy bars, juice, and baby food
A manual can opener
A battery-operated radio and extra batteries
Flashlights and extra batteries
A fire extinguisher
Matches in a waterproof container
Toiletries
Cleaning supplies
From Good Kids, Bad Habits: The RealAge Guide to Raising Healthy Children by Jennifer Trachtenberg.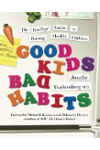 Every home, office and car should have a first aid kit. Make sure everyone knows where it is and what it contains. Below is the First Aid Kit Checklist found in my Doc's First Aid Guide. You can use it to make your own kit, using a small tool box or plastic airtight container. Make sure the kit is clearly labeled. Restock it after using and check it regularly to make sure no supplies are missing or outdated.
Doc's First Aid Guide with completed emergency information sheet
Equipment:
CPR barrier mask (face shield)
cotton swabs
instant-activating cold pack
paper cups
space blanket
thermometer
sealable plastic bags
battery-operated radio
Medication:
antiseptic wipes/towelettes
sterile eye wash with eye cup
antiseptic/anesthetic spray
antibiotic ointment
calamine/antihistamine lotion
activated charcoal tablets/powder
wound saline wash/irrigation
Instruments:
tweezers
blunt-tipped scissor
bulb syringe
Miscellaneous:
disposable gloves
change for a pay phone
candles, waterproof matches
pocket flashlight
paper/pencil
packet tissues
soap
safety pin
Dressings:
sterile cotton ball
sterile eye patches
sterile gauze pads, 4x4
hypoallergenic adhesive tape
elastic bandage, 3-inch
roller bandage
sterile nonstick pads
absorbent compress
adhesive bandage strips
triangular bandage
butterfly bandages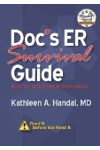 More About this Book
Doc's ER Survival Guide (DocHandal's Guides)
Few people get through life without at least one trip to the emergency room (ER), either as a patient or support person for a family member or friend. Doc's ER Survival Guide is designed to help...
You need a variety of items in your family's first aid kit in case a loved one gets hurt or there's another emergency. You may need to personalize your first aid kit based on the ages of your children and any medical conditions a family member might have, but here are the basic items that every family first aid kit should include:
first aid manual
emergency phone numbers
medical consent and medical history forms
over-the-counter medicines, including pain relievers and cough and cold medications
allergy medicine
oral medicine syringe
hydrocortisone cream
a variety of bandages and gauze
sharp scissors
safety pins
tweezers
antiseptic wipes
antibiotic ointment
cold packs
hydrogen peroxide
latex-free gloves
thermometer
petroleum jelly
calamine lotion
aloe vera gel
Keep all of these items in a waterproof, plastic container. Store your family first aid kit where everyone knows where it is. Regularly check the expiration dates on medications so you can dispose of those that are old and replace them with fresh ones.
First, all items should be operative, current and not expired. Second, all items should be stored in a waterproof container in a location known to family members. It is recommended that personalized first aid kits include a first aid instruction manual, alcohol-based hand sanitizer, multiple non-latex gloves, an eye shield, breathing barrier devices for cardiopulmonary resuscitation, antiseptic cleansers (hydrogen peroxide, povidone-iodine or chlorhexidine), sterile saline eyewash, a non-mercury and non-glass thermometer, multiple safety pins, an elastic bandage, a suction device to flush out wounds, an aluminum finger splint, a space blanket, an instant cold compress, a flashlight with spare batteries, oral medication syringe and spoon, over-the-counter medicines (anti-inflammatory pain relievers, anti-itch lotion, topical corticosteroids creams, antihistamine tablets for allergies, cough and cold medications, anti-nausea, anti-dizziness, and anti-diarrhea medications), any personal items (inhalers, EpiPens, insulin), as well as a list of emergency contact phone numbers, medical conditions, medications and allergies.
The American Red Cross recommends that all first aid kits for a family of four include the following:
2 absorbent compress dressings (5 x 9 inches)
1 adhesive cloth tape (10 yards x 1 inch)
5 antibiotic ointment packets (approximately 1 gram)
5 antiseptic wipe packets
2 packets of aspirin (81 mg each)
1 gauze roll
1 blanket (space blanket)
1 breathing barrier (with one-way valve)
1 instant cold compress
2 pairs of nonlatex gloves (size: large)
2 hydrocortisone ointment packets (approximately 1 gram each)
A variety of bandages and gauze
25 adhesive bandages (assorted sizes)
Sharp scissors for cutting bandages
1 roller bandage (3 inches wide)
1 roller bandage (4 inches wide)
5 sterile gauze pads (3 x 3 inches)
5 sterile gauze pads (4 x 4 inches)
1 non-mercury and non-glass oral thermometer
2 triangular bandages
Tweezers to remove ticks, insect stingers and small splinters
First aid instruction booklet
Continue Learning about First Aid, Safety & Preparedness