Below are some of the basics of splinting a fractured bone you can use if help is not on the way and moving is necessary:
Support both sides of the fracture when you lift the fractured limb into the splint. If, for example, you use a newspaper to splint a fractured forearm, be sure to extend the newspaper from the hand to the elbow so that it includes the joint above and below the fracture site.
Always check circulation of the injured extremity before and after splinting. Note the color of the skin beforehand.
A splint is probably too tight if the color of the skin changes. Loosen the splint ties until the color improves. If the victim complains of numbness or if swelling occurs, loosen the splint.
Get medical attention immediately.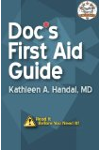 More About this Book
Doc's First Aid Guide: Read It Before You Need It
In a medical emergency, time is of the essence. "Doc's First Aid Guide" is an illustrated, first-aid pocket handbook designed to be used as a quick reference and includes the latest CPR guidelines....
Continue Learning about First Aid, Safety & Preparedness