The rash caused by poison ivy (Toxicodendron radicans) is an allergic reaction to an oil in the poison ivy leaf. When the leaf touches your skin, the oil (called "urushiol") rubs onto the skin. This causes a "delayed hypersensitivity reaction." This means the blisters do not appear right away. It takes 24 to 38 hours for them to appear. They can continue to pop up over the next week or two.

Many people think that the rash is spread from the blisters. That is not correct. The blisters are simply the skin's reaction to the oil. Coming in contact again with the poison ivy plant can, of course, cause new blisters.

Be sure you know what poison ivy looks like so you can avoid it. And remember this: If you touch clothing, gardening gloves, shoes, or tools that have brushed up against poison ivy, you can get new blisters. Only a microscopic amount of oil is needed to cause the allergic reaction. Wash anything that comes in contact with poison ivy to remove the oil.

As you know, the rash is very itchy. It usually lasts about three weeks. For mild cases, you can use cool compresses, over-the-counter oral antihistamines, and hydrocortisone cream applied to the skin. For more severe cases, see your doctor. You may need a prescription for an oral corticosteroid, such as prednisone, and stronger prescription cortisone creams.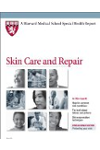 More About this Book
Harvard Medical School Skin Care and Repair
Where can you get authorotative advice on skin care? There's plenty of advice out there on TV, the internet and in the aisles of stores peddling skin care products. Despite the abundance of products...
Continue Learning about First Aid, Safety & Preparedness