If you find your child with an open or empty container of anything that isn't food, he may have eaten something poisonous. Stay calm and act quickly. First, get the item away from your child. If there is still some in his mouth, make him spit it out or remove it with your fingers. Keep this material along with any other clues about what your child ate. Save the container to help doctors determine exactly what and how much was swallowed. If your child is unconscious, not breathing, having convulsions, or having seizures, call 911 right away. If the poison is very dangerous or your child is very young, you may be told to go straight to the nearest hospital. If not, you will be asked for the following information and told what to do at home:
Your name and phone number
Your child's name, age, and weight
Any medical conditions your child has
Any medicine your child is taking
What your child swallowed -- read the name off the container and spell it
How much you think your child swallowed and when
From The Smart Parent's Guide: Getting Your Kids Through Checkups, Illnesses, and Accidents by Jennifer Trachtenberg.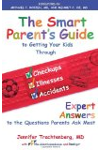 Continue Learning about First Aid, Safety & Preparedness