You have approximately 5.7 liters of blood in your body. This amount is needed to maintain circulation. Rapidly losing just one liter can result in shock or death. That's why a victim's pulse will quicken then weaken as blood is lost. If someone is bleeding heavily, it is important for you to stay calm and to control the bleeding and get medical help immediately.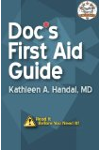 More About this Book
Doc's First Aid Guide: Read It Before You Need It
In a medical emergency, time is of the essence. "Doc's First Aid Guide" is an illustrated, first-aid pocket handbook designed to be used as a quick reference and includes the latest CPR guidelines....
Continue Learning about First Aid For Wounds