To care for a minor open wound, follow these general guidelines:
Use a barrier between your hand and the wound. If readily available, put on disposable gloves and place a sterile dressing on the wound.
Apply direct pressure for a few minutes to control any bleeding.
Wash the wound thoroughly with soap and water. If possible, irrigate an abrasion for about five minutes with clean, warm, running tap water.
Apply an antibiotic ointment to a minor wound if the person has no known allergies or sensitivities to the medication.
Cover the wound with a sterile dressing and a bandage or with an adhesive bandage to keep the wound moist and prevent drying.
Continue Learning about First Aid For Wounds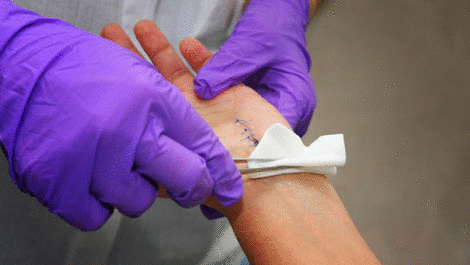 Many wounds can be treated at home with proper first aid. It is important to keep the wound clean to speed healing and to reduce infection. Learn more about first aid for wounds from our experts.