Children can choke on anything that is the right size to block their airway. This includes things such as grapes or even hot dogs cut into coin shapes. It is better to cut hot dogs into strips instead, to reduce the chances of children choking.
Common foods that can cause choking in children include:
Peanuts
Hot dogs
Lettuce
Celery
White bread
Nuts
Cheese chunks
Whole grapes
Hard candy
Popcorn
From
Good Kids, Bad Habits: The RealAge Guide to Raising Healthy Children
by Jennifer Trachtenberg.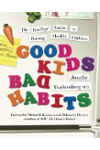 Continue Learning about First Aid For Choking