Tip: If an object can fit in a cardboard toilet-paper tube, it's a choking hazard. Do a clean sweep and make sure all small objects are out of both sight and reach of young ones. Tie up cords from blinds and drapery, and keep ropes, ribbons, string, and plastic grocery bags away from small children.

From The Smart Parent's Guide: Getting Your Kids Through Checkups, Illnesses, and Accidents by Jennifer Trachtenberg.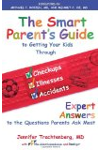 The highest-risk age group for choking accidents is from 10 to 36 months. The most common things that kids choke on are food and toys. Since the Consumer Product Safety Commission mandated that all toys with small parts be labeled for safety, choking accidents from toys have diminished significantly.

Unfortunately, foods do not have safety labels. The highest-risk choking foods are hot dogs, raw carrots, candy, gum, nuts and seeds of any kind. If you are not sure what's safe for your toddler, always ask your pediatrician.

To reduce choking risk, teach your child to be seated while he's eating and do not allow him to eat in the backseat of the car.
Continue Learning about First Aid For Choking