Don't hurry your child to finish eating. A young child can be overwhelmed with lots of food, so put only a small amount of food on the tray at a time. Also, make sure the pieces of food offered are small. It's recommended that food be no more than one-half inch in any direction. If you're not sure, cut the food and err on the side of serving smaller pieces. Cut meat across the grain into small pieces so they'll be easier to chew.
Besides small toys and marbles, keep items such as pen caps, small batteries, and coins away from young children. Do a sofa-cushion check periodically to look for choking hazards that have fallen through the cracks. Get down on the floor from time to time and look at your environment through your baby's eyes to double check for any hazards you might have overlooked at adult height.
From Good Kids, Bad Habits: The RealAge Guide to Raising Healthy Children by Jennifer Trachtenberg.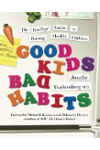 Continue Learning about First Aid For Choking