The action to clear a blocked airway is an abdominal thrust, also called the Heimlich maneuver. The technique is for a conscious choking victim who is one year of age or older. Different steps must be taken if the victim is unconscious or pregnant, or if the victim is less than one year of age. You can learn the steps for these special situations in a first aid course.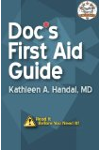 More About this Book
Doc's First Aid Guide: Read It Before You Need It
In a medical emergency, time is of the essence. "Doc's First Aid Guide" is an illustrated, first-aid pocket handbook designed to be used as a quick reference and includes the latest CPR guidelines....
Continue Learning about First Aid For Choking