For animal or human bite that breaks the skin:
Make sure scene is safe. (Avoid animals acting strange, including humans.)
Wearing gloves, clean wound with soap and lots of running water.
Then stop bleeding by applying pressure.
Report all animal bites to the police/animal control.
If there's bruising or swelling, place a cold (mixture ice/water) wrapped in cloth on area for at least 20 min. or until medical help is obtained.
Get medical help for infection prevention.
A tetanus booster may be required.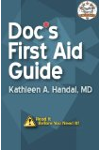 More About this Book
Doc's First Aid Guide: Read It Before You Need It
In a medical emergency, time is of the essence. "Doc's First Aid Guide" is an illustrated, first-aid pocket handbook designed to be used as a quick reference and includes the latest CPR guidelines....
Continue Learning about First Aid For Animal Encounters