First, remove the tick. Don't try to scrape the tick off, because you'll only get part of it. Instead use flat-edged tweezers and try to get the whole little blood-sucking bugger off your child in one pull. If you're worried about Lyme disease, you can take the tick to your doc to have it analyzed.
The deer tick needs to be attached to the skin for at least twenty-four hours to transmit the virus, which is why you should religiously check your child once a day.
Take him to the pediatrician for a blood test if:
He has coldlike symptoms after an extended tick bit.
There is a red ring around the bite.
Your child complains of exhaustion or achy joints.
You live in a deer-tick-infested area.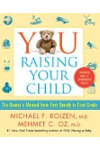 Continue Learning about First Aid For Animal Encounters