The following instructions are the first aid treatment for insect or animal bites:
Do not elevate body part that has been bitten or stung.
Do not stop person from taking own medication for allergic reaction.
Do not rub or squeeze an irritated area.
Do not apply a tourniquet.
Do not use suction to remove venom.
Do not try to squeeze out a stinger.
Do not remove a tick using your hand, rubbing alcohol, a match, gasoline, or nail polish.
Do not try to catch what bit you; time spent doing so delays treatment.
Monitor for responsiveness.
Help the victim administer medication for allergic reaction. Assist with Epinephrine Autoinjector, as needed.
Apply cold compresses to wound to relieve pain and swelling.
Watch for signs of severe allergic reaction.
Control bleeding if needed.
If the sting was inflicted by a honeybee, and the stinger is still in the skin, remove it by scraping with a plastic card, a knife, or a razor blade. Don't squeeze the stinger, or the venom sac will send a new supply of venom into the bloodstream.
If a tick is embedded in the skin, it must be killed before it is removed in one piece. Get medical help for proper removal.
If an animal is involved, and it's believed venomous, try to photograph it.
Get medical help if needed.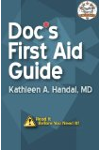 More About this Book
Doc's First Aid Guide: Read It Before You Need It
In a medical emergency, time is of the essence. "Doc's First Aid Guide" is an illustrated, first-aid pocket handbook designed to be used as a quick reference and includes the latest CPR guidelines....
Continue Learning about First Aid For Animal Encounters