Worsening asthma symptoms need a quick appointment with the doctor. But if your symptoms become severe, don't hesitate to seek emergency care. The following are signs of a potentially life-threatening breathing situation:
Severe difficulty breathing (flared nostrils, using chest muscles to breathe, etc.)
Blue lips or fingernails
Extreme difficulty walking or talking
Lack of relief from quick-relief medications
Peak flow readings below 50 percent of your personal best
Call 911 or seek emergency room care if you ever experience any of these symptoms.
If you have asthma, call 911 or go to the hospital emergency room for:
A lot of trouble breathing
Trouble walking or playing
Trouble talking
Gray or slightly blue skin color
These are signs of a serious asthma attack. Get medical help right away!
You should go to the emergency room (ER) for an asthma attack if you are experiencing the following:
You feel like your rescue inhaler just isn't cutting it.
You're not responding to your typical medicines at home.
Breathing is taking more work.
You're not able to speak in full sentences.
You feel like you can't breathe.
Most people with asthma know their body. Asthma is commonly seen in the ER. The ER has good treatments that can keep you from getting worse and can get you better so you don't end up needing a breathing tube, or anything like that.
If a child is really struggling to breathe or is turning blue, you should call 911 right away. In this video, I will discuss this and other reasons to seek emergency care for asthma related symptoms.
Call 9-1-1 or the local emergency number if the person's breathing trouble does not improve in a few minutes after using the quick-relief medication.
Your child's asthma attack should be treated as an emergency if the work of breathing has become too much for the by-now drowsy and confused child.
Warning: If there is no wheezing, then not enough air is being moved through the bronchi to make any noise.
Red alert: In fact, there are no breath sounds. The carbon dioxide rises, increasing the acid in the blood. The blood oxygen falls rapidly and only at this late stage does the child turn blue. Keeping the child alive requires being in the intensive care unit with assisted respiration.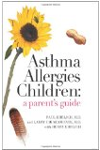 More About this Book
Asthma Allergies Children: A Parent's Guide
Asthma and allergies are at epidemic proportions. It doesn't have to be that way. Two experienced pediatric allergists tell everything a conscientious parent needs to know about these conditions,...
An emergency room (ER) visit for asthma is indicated when home treatments are not working or if the attack is severe. For example, if you have used the maximum amount of your rescue albuterol inhaler or two nebulized treatments of albuterol and are still having a difficult time breathing, you should be seen right away. If you are taking care of a loved one who becomes tired, pale or blue, that person should be seen immediately.
You should go to the emergency room (ER) for an asthma attack if you are having trouble breathing despite the use of your prescribed medications. Fast breathing, retractions, using extra muscles to help you breathe, the feeling that air is not getting in and chest pain are just some of the reasons a person with asthma should come to the ER.
Continue Learning about First Aid For Medical Emergencies & Conditions