You should not use an automated external defibrillator (AED) in the following situations:
Do not use AED if victim is lying in water.
Do not use AED if chest is covered with sweat or water.
Do not put an AED pad over a medication patch.
Do not place AED pad over a pacemaker (hard lump under chest skin).
Do not touch a victim when AED says to "stand clear" or while delivering a shock.
Do not use AED on infants less than 12 months unless you are trained to do so.
Do not use adult pads on children under age 8 (unless child-sized pads aren't available).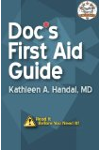 More About this Book
Doc's First Aid Guide: Read It Before You Need It
In a medical emergency, time is of the essence. "Doc's First Aid Guide" is an illustrated, first-aid pocket handbook designed to be used as a quick reference and includes the latest CPR guidelines....
Continue Learning about First Aid For Medical Emergencies & Conditions