A fever is a temperature of 100.4 or higher, but sometimes a child's behavior when feverish is a better indicator of the severity. In this video Tanya Altmann, MD, pediatrician, discusses how to know when you should call the doctor.
Any time your child has a high fever, consult with your pediatrician and make a decision together about what the right plan of action is, whether that means an emergency room visit, or a visit to the pediatrician. Find out if there's anything you can do at home prior to an emergency room visit. For instance, you may need to medicate the child. Also, assess if there are any other symptoms related to the fever or if the child is behaving differently.
Parents are needlessly horrified by fevers. Remember, a high fever doesn't necessarily mean it's serious. Most severe infections that are accompanied by a high fever (such as meningitis and other bacterial blood infections) are less common now due to vaccinations. Fevers are the body's way of fighting infection, and kids tend to run higher fevers than adults. In many ways, it means the body is doing its job! What's more important is how your child looks and responds to you. If your child looks and acts sick or is extremely lethargic, call your pediatrician. Again, if you have a strong hunch that it's really an emergency, don't hesitate to go to the Emergency Department (ED). When kids have a fever, it's okay to give Children's Tylenol (acetaminophen) or Children's Motrin (ibuprofen) if you think it will make them more comfortable. Just remember to tell the nurse and doctor about the fever reducer if you go to the ED. And never give your child aspirin!

From The Smart Parent's Guide: Getting Your Kids Through Checkups, Illnesses, and Accidents by Jennifer Trachtenberg.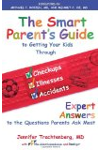 Continue Learning about First Aid For Medical Emergencies & Conditions