Before you become a rescuer, be aware of your own sensitivities and physical limitations. If you are not cut out for hands-on help at the scene of a medical emergency, you can still help. The fact that you know how to get help and can communicate effectively will make a difference.

It's also important to exercise compassion and understanding for the victim's situation. Your job is to stay calm and to reassure the victim without making false promises. Always remember to give the victim as much privacy as possible, including asking observers to act as a screen by facing out from the situation. Again, thinking ahead about this and the role you might play will make a difference in ensuring the effectiveness of your assistance.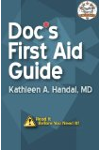 More About this Book
Doc's First Aid Guide: Read It Before You Need It
In a medical emergency, time is of the essence. "Doc's First Aid Guide" is an illustrated, first-aid pocket handbook designed to be used as a quick reference and includes the latest CPR guidelines....
Continue Learning about First Aid For Medical Emergencies & Conditions