An automated external defibrillator (AED) can help save the victim's life if given within minutes of a sudden cardiac arrest event. An AED analyzes the victim's heart rhythm and determines whether a shock is required to restore the rhythm. If so, the device provides clear audio or visual instructions to walk the user through the necessary steps. Technological advances have made AED devices very easy to use for non-medical individuals, and they are becoming more common in restaurants, airports and other public places.
A defibrillator shocks a patient's heart to stop ventricular fibrillation.
Cardiopulmonary resuscitation (CPR) alone is not always enough to restart the heart. Automated external defibrillators (AEDs) save lives if used right away for certain types of cardiac arrests. This computerized medical device analyzes the heart and delivers electric shock (defibrillation) when needed through connected adhesive pads. The AED and you work through visual and audio prompts. Instructions are simple and directions are given one step at a time.
The emergency medical services (EMS) dispatcher may tell you where the nearest AED is located and instruct you to send for it. AEDs are common in public places and are also carried to the scene by trained responders. Survival is based on time to starting CPR and defibrillation. So until the AED arrives, chest compressions should be done by pushing fast and hard in the middle of the chest. When an AED is available, lay rescuers should perform CPR while it is being applied.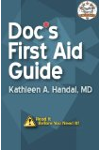 More About this Book
Doc's First Aid Guide: Read It Before You Need It
In a medical emergency, time is of the essence. "Doc's First Aid Guide" is an illustrated, first-aid pocket handbook designed to be used as a quick reference and includes the latest CPR guidelines....
Continue Learning about First Aid For Medical Emergencies & Conditions