Your first step in a medical emergency must be to look around and ask yourself "Is the scene safe for me?" before attempting a rescue. Too often well-intentioned rescuers become victims themselves when they risk their safety to help others. Don't think that rushing in will make you a hero. If the area is unsafe, go for help or put on the personal protective equipment (PPE) that will permit you to assist safely.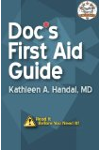 More About this Book
Doc's First Aid Guide: Read It Before You Need It
In a medical emergency, time is of the essence. "Doc's First Aid Guide" is an illustrated, first-aid pocket handbook designed to be used as a quick reference and includes the latest CPR guidelines....
Continue Learning about First Aid For Medical Emergencies & Conditions