The following are first aid treatment guidelines for unconsciousness:
Call for medical help.
Look for causes of unconsciousness.
Monitor responsiveness and breathing.
Monitor for seizures.
If there is no possibility that the victim has a head or spinal injury, place in recovery position.
If low blood sugar is suspected: Check blood sugar level if possible. If below 50 and if victim can swallow, give sugar (soda, fruit juice, honey -- not sugar substitutes). Assist victim with his/her injection of glucagon for treating low blood sugar. Recheck sugar level 15 - 20 minutes after treatment.
Stay with the victim until help arrives.
Do not give victim anything to eat or drink.
Do not move if any sign of trauma -- cuts, bumps, bleeding.
Do not leave victim alone.
Do not try to wake with water on face or slapping.
Do not put pillow under head, the position could block the airway.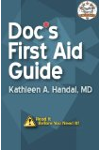 More About this Book
Doc's First Aid Guide: Read It Before You Need It
In a medical emergency, time is of the essence. "Doc's First Aid Guide" is an illustrated, first-aid pocket handbook designed to be used as a quick reference and includes the latest CPR guidelines....
Continue Learning about First Aid For Medical Emergencies & Conditions