The following are first aid treatment guidelines for a stroke:
Call for medical help immediately.
Monitor responsiveness and breathing.
Calm and reassure victim until help arrives.
Have victim rest in a comfortable position.
If the victim loses consciousness place in the Recovery Position (place victim on his/her side (preferably left) extending the lower arm above the head so the head rests on that arm and the opposite hand.)
Stay with the victim till help arrives.
Do not give victim anything to eat or drink.
Do not delay getting medical attention.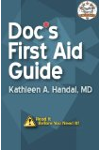 More About this Book
Doc's First Aid Guide: Read It Before You Need It
In a medical emergency, time is of the essence. "Doc's First Aid Guide" is an illustrated, first-aid pocket handbook designed to be used as a quick reference and includes the latest CPR guidelines....
Continue Learning about First Aid For Medical Emergencies & Conditions